HELMSMAN INTERNATIONAL
Helmsman are a management consulting firm with a passion for conquering complexity. They are committed to making a measurable difference to Australia's economy by improving the performance of large capital projects and assets.
CAST and Helmsman
Since CASTs inception, we have had a strong relationship with Helmsman. Helmsman focuses on direct consultation with customers and excels at evaluating complexity, identifying risk and providing remediation to identified problems. CAST has been able to support Helmsman by enhancing and automating their insight generation capabilities allowing them to spend greater time on areas that they offer the best value for money to their clients.
Performance Exchange
CAST has been supporting Helmsman with their Performance Exchange program since 2018. The program evaluates large (mostly) defence contracts, from the perspective of buyers and suppliers, to benchmark project delivery performance and identifying areas of risk in individual and aggregated sets of contracts. To enchance the value generated by the Performance Exchange program, Helmsman has called on CASTs expertise to provide a robust product that:
tracks user responses and facilitate the smooth completion of data gathering;
enables Helmsman consultants to rapidly produce consistent, informative, accurate reports, thereby increasing the amount of time that can be spent face-to-face with company executives that can benefit most from Helmsman's findings;
provides deeper insights within their rich dataset that previously had not been easily obtainable; and
reduces the level of manual data intervention and the associated risks.
Provided Support
The Performance Exchange system has been built on a cloud-based platform that allows Helmsman secure access from potentially anywhere in the world. Below is an example of the delivered product and a sample report used in the support of Helmsman Performance Exchange.
Generated Reports
The Executive Reports contain high-level performance indicators as well as individual contract status. Reports vary depending on the number of contracts and type of level of executive reporting that is required. The image below is an example of some of the high level reporting included in the reports. In developing the reporting process, CAST ensured the outcomes conformed with Helmsman's previous reporting by allowing the reports to be generated in both PowerPoint and pdf formats while accurately reflecting the layout and content of existing reports.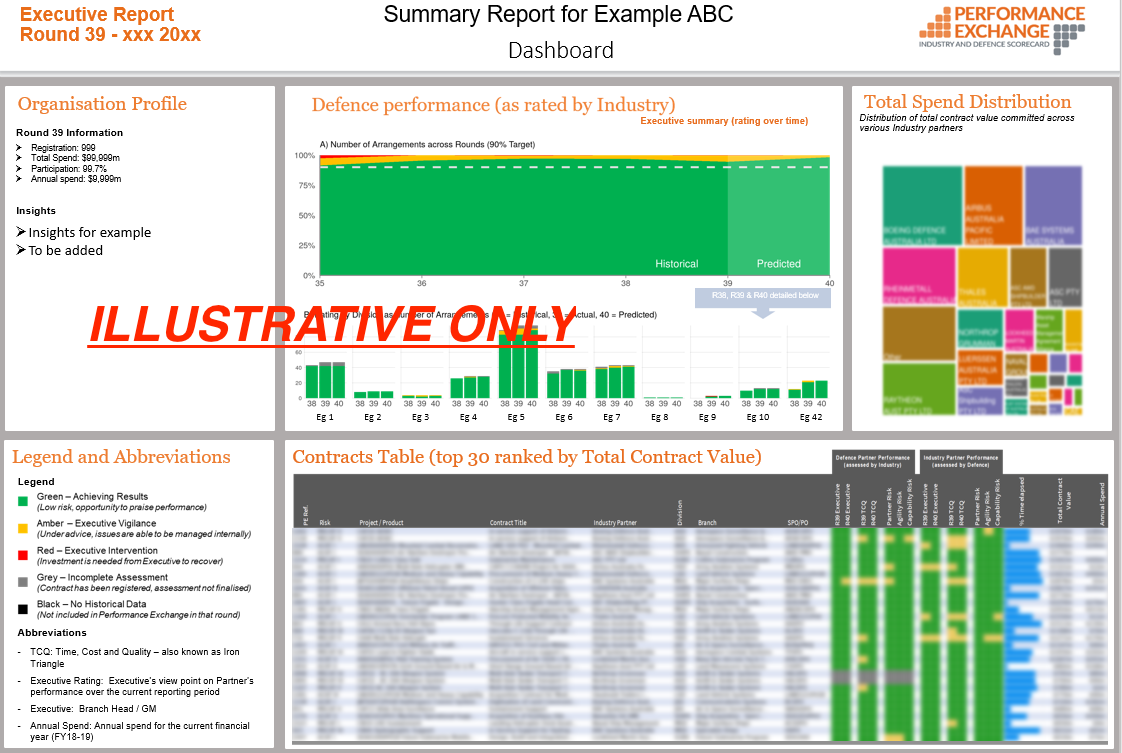 Response Dashboard
The online portal allows for Helmsman to quickly visualise the progress of the respondents to the latest (and historical) surveys. The portal also provided the flexibility to update surveys on an ongoing basis after feedback and remediation between both parties of any contracts.